Kuhusu Waandishi
Last updated
Page ID

164420
\( \newcommand{\vecs}[1]{\overset { \scriptstyle \rightharpoonup} {\mathbf{#1}} } \) \( \newcommand{\vecd}[1]{\overset{-\!-\!\rightharpoonup}{\vphantom{a}\smash {#1}}} \)\(\newcommand{\id}{\mathrm{id}}\) \( \newcommand{\Span}{\mathrm{span}}\) \( \newcommand{\kernel}{\mathrm{null}\,}\) \( \newcommand{\range}{\mathrm{range}\,}\) \( \newcommand{\RealPart}{\mathrm{Re}}\) \( \newcommand{\ImaginaryPart}{\mathrm{Im}}\) \( \newcommand{\Argument}{\mathrm{Arg}}\) \( \newcommand{\norm}[1]{\| #1 \|}\) \( \newcommand{\inner}[2]{\langle #1, #2 \rangle}\) \( \newcommand{\Span}{\mathrm{span}}\) \(\newcommand{\id}{\mathrm{id}}\) \( \newcommand{\Span}{\mathrm{span}}\) \( \newcommand{\kernel}{\mathrm{null}\,}\) \( \newcommand{\range}{\mathrm{range}\,}\) \( \newcommand{\RealPart}{\mathrm{Re}}\) \( \newcommand{\ImaginaryPart}{\mathrm{Im}}\) \( \newcommand{\Argument}{\mathrm{Arg}}\) \( \newcommand{\norm}[1]{\| #1 \|}\) \( \newcommand{\inner}[2]{\langle #1, #2 \rangle}\) \( \newcommand{\Span}{\mathrm{span}}\)\(\newcommand{\AA}{\unicode[.8,0]{x212B}}\)
Whitney Menefee
Whitney Menefee ni mwalimu wa wakati wote wa biolojia katika Chuo cha Reedley, ambapo anafundisha kozi mbalimbali za biolojia ikiwa ni pamoja na anatomy ya binadamu. Alizaliwa na kulelewa katika Central Valley of California na ni alumnasi wa Reedley College (A.S. Biolojia Science) na Chuo Kikuu cha Jimbo la California, Fresno (B.A. Asili Science, M.S. Biolojia). Ana zaidi ya miaka 10 ya uzoefu wa kufundisha na amehusika katika maendeleo ya OERs kadhaa katika uwanja wa biolojia. Yeye anafurahia shughuli za nje, hasa boating na mumewe na binti yake.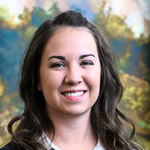 Julie Jenks
Julie Jenks anafundisha anatomia ya binadamu pamoja na biolojia ya binadamu na biolojia ya utangulizi katika Chuo cha Butte, ambapo amekuwa mwanachama wa kitivo tangu 2013. Kabla ya kufundisha katika ngazi ya chuo cha jamii, alipata shahada yake ya MS wakati akifanya kazi katika sekta ya bioteknolojia kuendeleza vipimo vya Masi kwa ajili ya utambuzi na matibabu ya magonjwa ya virusi na saratani pamoja na kuboresha sifa za mazao ya kilimo. Yeye ni mama wa binti wawili na anafurahia kutumia muda na familia yake, kutembea, kusoma, na kupiga picha.
Chiara Mazzasette
Chiara Mazzasette ni anatomy binadamu na physiolojia mwalimu na ana adjunct Kitivo nafasi katika Pasadena City College. Amekuwa akifundisha katika vyuo vya jamii tangu 2017. Yeye ni mwanabiolojia wa Masi (M.S.) na mwanasayansi wa neva (PhD) na amechapisha makala za utafiti kuhusu neurons na seli za glia katika majarida kama vile Journal of Neuroscience na Human Masi Genetics. Yeye pia ni mama wa msichana mmoja na anafurahia yoga, freediving, kusoma na kuoka.
Kim-Leiloni Nguyen
Kim-Leiloni Nguyen amekuwa akifundisha katika Chuo cha Mlima San Antonio katika Idara ya Sayansi ya Biolojia tangu mwaka 2000. Anatomy ya Binadamu, General Biolojia, na Afya ni kozi zake zinazopenda kufundisha kwa sababu anashiriki hadithi za kliniki kutokana na mafunzo yake ya afya na ya umma. Anafanya utafiti wa elimu juu ya kujifunza kwa kazi na kukuza mikakati ya utafiti wa ubongo. Kwa sasa hutumika kama Mratibu wa Tathmini ya Matokeo ya Kitivo na Kocha wa Data Yeye na mumewe ni wasafiri wa dunia.