1.2: Sanaa ya Zamani na Asili ya Ubunifu
Last updated
Page ID

165331
\( \newcommand{\vecs}[1]{\overset { \scriptstyle \rightharpoonup} {\mathbf{#1}} } \) \( \newcommand{\vecd}[1]{\overset{-\!-\!\rightharpoonup}{\vphantom{a}\smash {#1}}} \)\(\newcommand{\id}{\mathrm{id}}\) \( \newcommand{\Span}{\mathrm{span}}\) \( \newcommand{\kernel}{\mathrm{null}\,}\) \( \newcommand{\range}{\mathrm{range}\,}\) \( \newcommand{\RealPart}{\mathrm{Re}}\) \( \newcommand{\ImaginaryPart}{\mathrm{Im}}\) \( \newcommand{\Argument}{\mathrm{Arg}}\) \( \newcommand{\norm}[1]{\| #1 \|}\) \( \newcommand{\inner}[2]{\langle #1, #2 \rangle}\) \( \newcommand{\Span}{\mathrm{span}}\) \(\newcommand{\id}{\mathrm{id}}\) \( \newcommand{\Span}{\mathrm{span}}\) \( \newcommand{\kernel}{\mathrm{null}\,}\) \( \newcommand{\range}{\mathrm{range}\,}\) \( \newcommand{\RealPart}{\mathrm{Re}}\) \( \newcommand{\ImaginaryPart}{\mathrm{Im}}\) \( \newcommand{\Argument}{\mathrm{Arg}}\) \( \newcommand{\norm}[1]{\| #1 \|}\) \( \newcommand{\inner}[2]{\langle #1, #2 \rangle}\) \( \newcommand{\Span}{\mathrm{span}}\)\(\newcommand{\AA}{\unicode[.8,0]{x212B}}\)
Maneno ya kawaida ni, 'historia daima hurudia yenyewe'. Historia ya sanaa na harakati za sanaa hurudia pia; wasanii wanaathiriwa na zamani na za sasa; Waroma walikosa Wagiriki, na mitindo ya awali iliongoza harakati za sanaa. Cycladic mapema (1.2) kuchonga aina rahisi na mikono tuli na miguu, David (1.3) na Michelangelo anatumia contrapposto nafasi na maelezo ya kweli, na njano kisasa sanaa uchongaji (1.4) ni fomu ya bure bado kulingana na takwimu ya binadamu na tafsiri katika milenia tofauti, inajulikana kama 'kisanii' kurudia.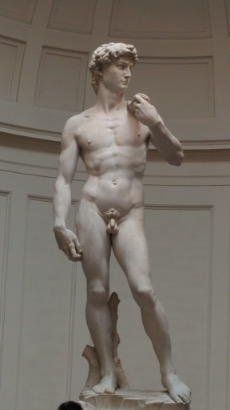 Wasanii wanapata mawazo yao kutoka maeneo mengi, umewahi kujiuliza wapi? Kwa nini wanaunda sanaa, na ni nguvu gani ya kuendesha gari nyuma ya uumbaji wao? Je, ni kisiasa, takatifu, dreamscape, sherehe, utamaduni, kujieleza, tiba, mfano, kihistoria, fasihi, mashairi, muziki, maonyesho, asili, hadithi, kuwasababishia, mawazo-kuchochea, au majaribio, chochote ni lazima kuja kutoka ndani ya msanii. Mchakato ni sehemu ya safari, na safari ni mchakato. Ikiwa kosa linatokea, rangi juu yake. Hakuna kitu kama kosa katika sanaa; si tu kumaliza. Sanaa ni kamili tu wakati msanii anaamini ni kumaliza!
Zaidi ya miaka milioni 4, wanadamu walibadilika kuwa ya kipekee ya Homo Sapiens-akili za kisasa za binadamu zimeongezeka kwa ukubwa na kusababisha makundi ya ubunifu na yaliyoandaliwa ya watu wa prehistoric. Ugunduzi wa moto ulikuwa labda moja ya mafanikio makubwa ya Stone Age, na ushahidi wa kitaaluma unaunga mkono mazoezi ya moto karibu miaka 400,000 iliyopita, ingawa baadhi ya wasomi wanaamini kuwa inaweza kuwa mapema sana. Ubongo wa binadamu uliogawanyika kati ya wanadamu na sayansi ulianza kubadilika kama mgawanyiko wa nyongeza miaka iliyopita. Moto ni katika moyo wa ubunifu wetu.
Kila mtu anapenda campfire; huleta watu pamoja wakati mbingu giza, na usiku mrefu hufuata. Utafiti unaonyesha kuwa kuongeza protini kwenye chakula kuruhusiwa ubongo kuongezeka kwa ukubwa. Protini, kipengele muhimu kwa ajili ya mageuzi ya ubongo wa binadamu, moto vivyo hivyo kuruhusiwa kupikia ya protini, kuondoa kizuizi cha vyakula ghafi. Ongezeko hili la protini katika mlo wa prehistoric husababisha maendeleo ya ubongo mkubwa wa mbele wa lobe kujenga uelewa zaidi, kutatua matatizo, na akili ya kijamii. Je, hadithi aliiambia kuzunguka chiaroscuro firelight, na kuimba, kucheza, na kuimba, kusababisha kuchora juu ya kuta za mapango au outcrops mwamba, kurekodi uwindaji wao Epic au maisha ya kila siku? Uunganisho wa makundi madogo ya watu waliohamahama ulihitaji sheria na kanuni ambazo zinaweza kuwa zimeanza kuzunguka moto wa kambi.
Kulingana na mbinu za dating za kaboni, mchoro wa kwanza unaojulikana ni umri wa miaka 30,000 (Venus ya Willendorf 1.7) na kuhusishwa na wale waliounda sanaa ya pango. Hapo awali, wanaanthropolojia walichukulia Mesopotamia kama "Cradle of Civilization" nyumbani kwa utamaduni wa kale kabisa duniani. Wananthropolojia wa kitamaduni wamefafanua Cradle of Civilization kuashiria kipindi cha lugha iliyoandikwa, kilimo, kulea wanyama, na majengo ya umma. Orodha hii ilitumiwa na tamaduni nyingi na sasa inafafanua Misri ya Kale kando ya Nile, Mesopotamia, Bonde la Indus, China ya Kale katika eneo la Mto Njano, Andes ya Kati na Mesoamerica kama vituo ambako ustaarabu tofauti ulianza kujitegemea.
Ubunifu uliendelea kukua kati ya tamaduni, na kutegemea maliasili, majumba makubwa, makaburi, na miundo yalitoka duniani. Sanaa shukrani kawaida inalenga Misri, Kigiriki, Kirumi, Renaissance, na sanaa ya kisasa. Kitabu hiki kinashughulikia tamaduni vizuri zaidi ya sanaa ya classical na huingia katika jamii nyingi za watu na utamaduni wao kutoka mabara sita. Kuchunguza sanaa nje ya kawaida, kuelewa asili ya ubunifu, na jinsi inavyounganisha sanaa ya zamani katika tamaduni zote duniani kote ni muhimu katika kuthamini sanaa.